How to Tip Your Movers in Chicago, IL
Mover Tipping Guide from Midway Moving & Storage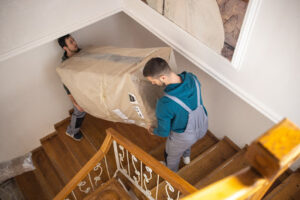 As Chicago, IL's moving experts, our team at Midway Moving & Storage often receives questions about tipping movers. We strive to bring you the best packing tips for your local or long-distance move. Moving is a customer service-based industry, and our team does all we can to make a great impression and offer superior moving services. Many of our customers feel gratitude and want to provide a tip for their moving services. We receive many questions about the standard practice for tipping movers, whether gratuity is included, if it's okay to add tips to a credit card payment, and more. Our team can do it all, from selling packing materials to providing full-service packing. Get in touch with us today to request a quote. 
Who to Tip & When
You'll almost always have a team of movers when you hire professional movers in Illinois. The best time to tip is when you're paying your final bill at the completion of your move. After the crew leader does a final walkthrough, you can present them with a tip as a token of your appreciation. The crew leader will split the tip among their crew to make things easier on you. 
How Much Should I Tip Movers?
The decision on how much to tip your movers is entirely up to you, but since you asked, we'll provide you with the industry standard. The industry standard for tipping professional movers is $5 to $10 per hour, per team member. Our movers are well-compensated for their time but always appreciate the extra tip for a job well done. You are never obligated to tip, but it shows your appreciation for hard work. If you don't want to stress out about calculating your tip for your movers, you might want to estimate it ahead of time. For example, if you expect your move to take four hours and want to tip $5 an hour per team member for a job well done, you would tip $20 per mover. If you have three movers, your total tip would be $60, or $120 if you wanted to tip $10 per hour per mover. You can always choose to leave your tip as a percentage of your total moving bill instead. 
How to Tip Your Movers
Cash is king when tipping, but it's not the only way to do so. When you tip in cash, your movers can take home the money without waiting for their next paycheck. If you are unable to use cash, you can always tip on your credit card payment. Let your crew leader know that you want to add a tip to your payment before they run your card. Our movers always appreciate a tip, no matter how much or how you pay. 
Tipping Your Midway Moving & Storage Movers
The professional movers at Midway Moving & Storage always appreciate your tips and work hard to complete every job to your satisfaction. We strive to make your move as smooth as possible, and we want tipping to be a stress-free experience, just like your move. Contact us today if you have any questions or want a free estimate for moving.