Long-Distance Movers in Chicago, IL
Economy Rates for Same-Day Long-Distance Movers in Chicago, IL
Whether you're moving to or from Chicago, you need your move to go as smoothly, quickly, and affordably as possible. The Chicago, IL long-distance movers at Midway Moving & Storage are here to make that happen. No matter how far your new residence is from Chicago, our long-distance movers can provide you with reliable moving services. We've moved clients from Chicago to cities across the nation, including Houston, New York City, Los Angeles, and all throughout Florida, including Miami. We have over 16,000 annual moves under our belt, and each time we move a client to a new city, our team learns new ways to deliver efficient long-distancing moving services to our clients. We streamline the process and safely transport your belongings to your new home, making us your go-to source for long distance moving.
Why Should I Choose Midway Moving & Storage?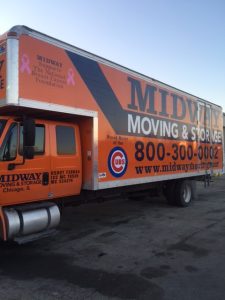 When you move, it is critical that you use a sound plan of attack to make sure nothing is lost. The problem is, long-distance moving is more complicated than a simple cross-town moving affair. That's why hiring a qualified long-distance moving company is so critical. Our team knows how to fit everything into our trucks safely. Your personal effects are as important to us as they are to you. We use high-quality packing materials to ensure valuable bookshelves and entertainment centers aren't scratched. More importantly, we understand things move quickly. If you have an upcoming move and your planned mode of transportation falls through, we offer same- and next-day moves and pickups. Finally, Midway Moving & Storage's Chicago, IL, long-distance movers offer flexible, economical plans that work for individuals of all budget sizes.
How to Research a Long-Distance Moving Company
There are a thousand things to take care of in advance of a cross-country move. From changing your driver's license to enrolling your children in a new school, it's critical to be prepared. The move itself needs to be carefully planned, and that begins with researching different long-distance moving companies. What should you look for in a moving company? Midway Moving & Storage delivers on all the vital categories, including:
Catering to Unique Needs: Each move is different from the last. For instance, if you're moving to a bigger house, you don't need to worry about fitting your belongings into the new residence. However, if you're downsizing in terms of square footage, it's a good idea to work with a flexible moving company that can help you hit the ground running when everything arrives. We have the experience needed to understand the long-distance moving process must be as individualized as possible. Plus, if you're leaving the city, one of our Senior Relocation Consultants can visit you during a free in-home consultation.
Credentials: People will try to take advantage of you; but not Midway Moving & Storage. When looking for a long-distance moving company to get you from Chicago to a new city, you'll want to ensure they are properly credentialed. We're authorized by the Federal Motor Carrier Safety Administration to provide long-distance moving services.
Communication: Due to how complex and stressful moving can be, it's critical you find a long-distance moving company that keeps lines of dialogue open at all times. Midway Moving & Storage does so, providing a personalized service that keeps your needs in mind at all times.
What Does Long-Distance Moving Cost?
Midway Moving & Storage offers competitive prices on cross-country long-distance moving, both to and from Chicago. How do we determine the cost? How much your move costs will depend on several factors, but the most important thing to remember is our long-distance moving company will be open and upfront with you about the rationale and justification regarding all costs. We also offer plenty of add-ons and customization options. Your moving costs will depend on the following factors:
When you're moving
Where you're moving to
The total weight of all your belongings
What's the Best Way to Prepare for a Long-Distance Move?
Midway Moving & Storage is a full-service long-distance moving company that helps clients strategize and execute long-distance moving plans. In addition to skillfully navigating awkwardly-sized belongings down stairways or through narrow hallways without damaging the walls or object, our long-distance movers also provide packing services if you don't have the time to pack your house yourself. If you are taking care of the packing, there are five crucial steps to take to ensure a clean and easy long-distance moving process:
Create a plan of attack as soon as you know you're moving
Devise a schedule and stick to it
Inventory all your belongings
Carefully plan where things go in your new house
Try to get rid of unwanted belongings
Contact Our Chicago, IL Long-Distance Movers Today
Whether you're leaving Chicago or relocating to the Windy City, our Chicago, IL long-distance movers make the process simpler. Call us at 866-693-4148 to discuss your moving needs and get a quote, or request a free estimate online. We'll start the moving process and help you into your new home as soon as possible.