The Dos and Don'ts of Moving Your Television and Other Electronics
When you are moving, you will have your television and other electronics to pack. To help ensure your TV and other electronics are packed correctly, our professional Chicago movers are pleased to offer the following suggestions.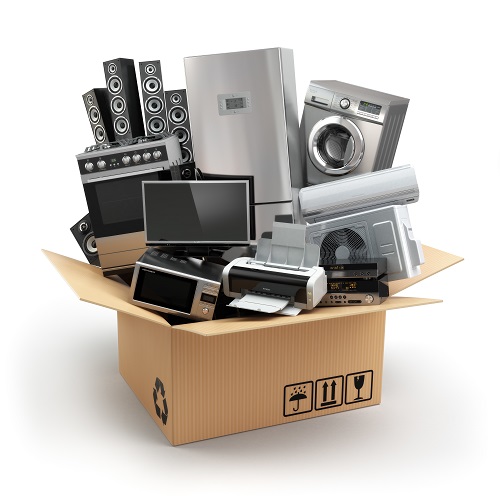 Don't disconnect anything without taking pictures first.
If you start pulling cables off, you could forget where they need to go when you are ready to set your TV and other electronics back up in your new home. Use your smartphone and take pictures of the backs showing where the wires and cables were connected.
Do bundle and label power cords, cables, and
Carefully wrap up the power cord, cables, and wires for one electronic device at a time. You can use rubber bands to bundle them together. Write on a post-it or small piece of paper which device the bundle goes to and use a rubber band to hold it in place.
Do dust and clean your TV and electronics.
You will want to dust and clean your devices before packing them. Dust particles can scratch TV screens, as well as get inside electronics during the packing and unpacking processes.
Do ask your moving and storage company for special boxes.
Some movers will carry special boxes just for flat screen TVs and other electronics. You should use these when they are available. If your mover does not have these boxes, you can use furniture pads, which your mover can supply. Carefully wrap furniture pads around TVs. You can use packing tape to secure the pads in place.
You should never lay flat screen TVs on their front or back. This is not good for them and can damage the internal electronics. In addition, do not move TVs in a flat position. The TV is weaker when it is laid flat, so it can break. You will want to keep the TV in an upright position.
Don't pack more than one electronic device in a box.
It might be tempting to stack Blu-ray players, gaming systems, and other devices into a single box. This is never a good idea because they can bounce around inside the box. It is better to pack each device into its own box with the appropriate padding.
Do label all of your boxes with arrows pointing up.
Take the time to write on the outside of the box what electronic device is inside and draw arrows showing which way is up. This will help your movers ensure the devices are loaded and packed onto the truck correctly.
Taking the time to correctly pack your TVs and electronics will ensure they arrive safe and sound at your new home. For moving supplies and boxes to pack up your electronics or to request a free moving quote, please feel free to contact the proud movers of the Chicago Cubs, Midway Moving & Storage, at (773) 588-7000 today!