Moving with Your Sanity and Pets Intact
Stress-free Pet-friendly Moving
Moving can be stressful, and when you add pets to the equation, it can escalate that stress. Fortunately, relocating pets without hassle or angst is possible, if you follow a few simple guidelines for keeping pets calm during a move and protecting them from harm. Here, we offer some pet-friendly moving tips, with some bonus tips on keeping yourself calm, safe, and sane during the move.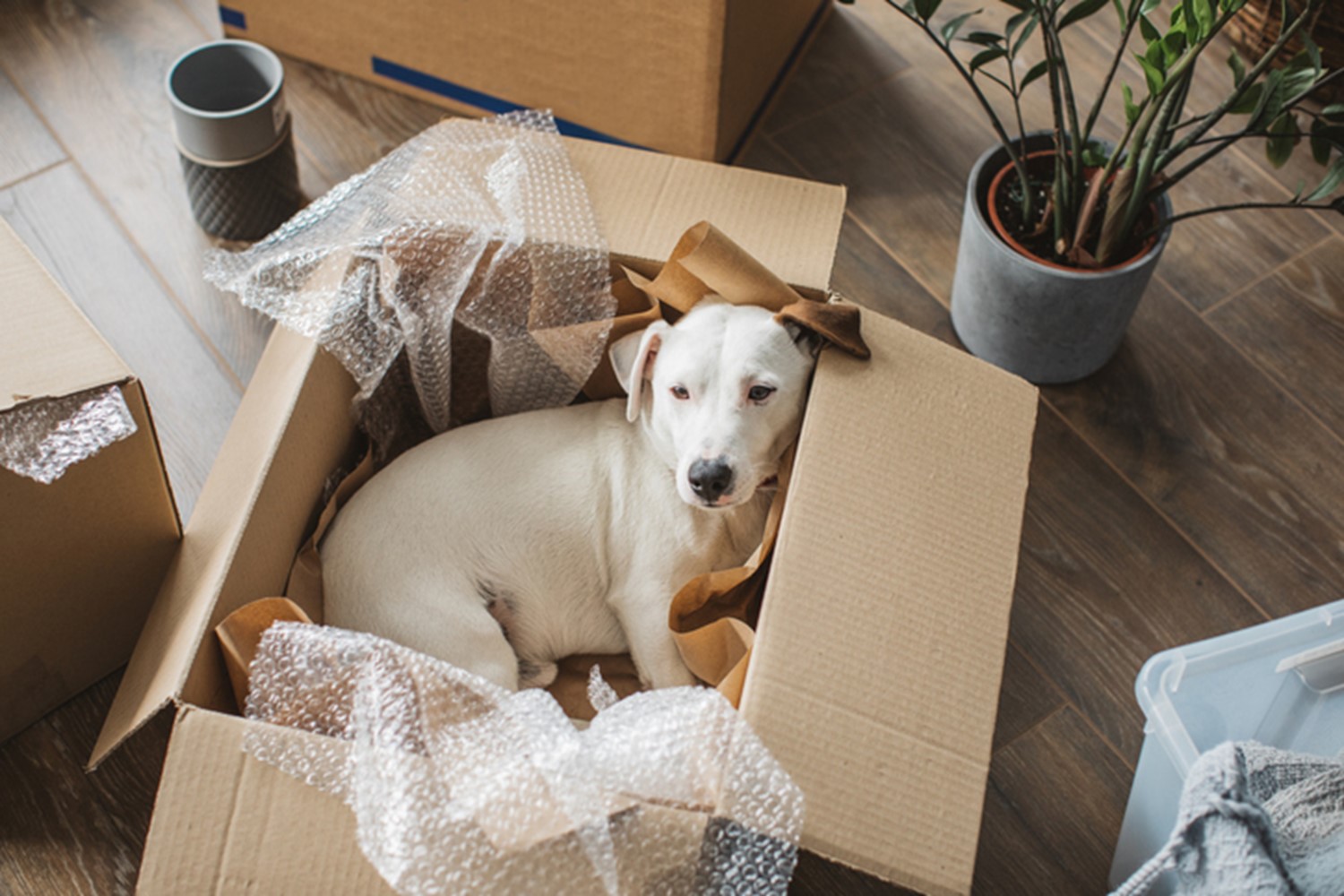 Moving with Pets Safely
Careful planning is the key to success when moving with pets. Talk to your vet in advance of the move, to get some expert tips or, if you're moving away from the neighborhood, a referral to a new vet. If you do need to move to a new vet, make sure to have your records and prescriptions transferred. Then, on moving day, follow these steps to protect your pets.
Keep your pets away from the move. Consider having them boarded or leaving them with a friend or family member, to keep them out from underfoot. If you can't manage this, crate them or keep them in an enclosed area so that they are not exposed to the activity of the move, which can be stressful for them. Keeping them secluded can also prevent them from dashing out the door during the move. Aside from keeping them away from the moving activity, try to keep their routines as normal as possible.
Pack them an overnight bag. Pack up food, bedding, toys, comfort items, and anything else you need to have easily accessible during the first few days at the new place. Keep this bag separate from the things being carried to the truck, and transport it with you and your pets.
Transport them in your own vehicle. Safely situated in a crate or carrier, your pets can travel safely in the back of your car. If they aren't used to containment, practice for a few weeks leading up to the move.
Use caution at the new place. For the first few days at the new place, have a designated space for the animals, introducing them to their new home one room at a time. Be careful not to let them run out into an unfamiliar neighborhood where they can get lost.
Update any tracking info. In case a pet does get lost, it's crucial that your tracking info is up to date. Change the tag and microchip information to reflect your new address.
Take special care with special pets. Before you move fish, birds, chickens, horses, or any other type of unusual pet, do some research on how best to safely do that. Fish can be transported for short moves in bags filled with water from their old tank. Birds must be secured in their cages before the move, and you might consider covering the cage with a blanket to limit their anxiety.
Moving with Your Sanity Intact
Once your pets are handled, how do you keep yourself calm amidst the chaos? Knowing your furry friends are safe should reduce the stress somewhat, but you'll still need to practice a little bit of self-care, even while moving. Don't be strict about your diet, but go ahead and grab convenient foods when you're packing and moving. Take a break in the days leading up to the move, to have some fun, maybe hang out with some friends, and get some exercise. Here's the strangest tip: chew some gum. Chewing a piece of gum has been found to reduce anxiety while increasing alertness and productivity. Now, for another tip that's not so strange: hire professional movers. While you can expect a little bit of stress during a move, having competent professionals to help can reduce it significantly.
Chicago's Premier Movers
When you're ready to move, call Midway Moving and Storage. Started by an entrepreneur in his parent's basement, Midway Moving and Storage has been in operation since 1987, and has grown to become a team of professional movers respected in and around Chicago and beyond. We're not your typical moving company, and in fact we are the Official Mover of the Chicago Cubs. That's not the only claim to fame for this premier moving company: we have also been called upon to move voting machines to local polling places, have had a crucial role in local events like a food drive to benefit the Greater Chicago Food Depository, and are earned a sterling reputation among high-profile organizations like the Chicago Board of Elections, Chicago Public Schools, and Chicago and Cook County Housing Authorities. The assets that set us apart from the competition include professional movers, trained at our Moving Training Center in Chicago on the latest best practices, moving strategies, and packing techniques, ensuring that well-trained, certified, insured moving professionals are used for every job, with no use of subcontractors, students or day laborers. We provide service to residential and commercial customers, handling jobs of all sizes, including local moves and relocations to and from 48 states. You can count on our estimates to be accurate and our service to be dependable and exceed your expectations. For more information or to request a custom quote, call (800) 659-0874 or contact us through our website.