Three Warning Signs It's Time to De-Clutter
Dictionary.com defines de-cluttering as such: "To remove mess or clutter from (a place)." Yet, how do you know when it's time to actually start decluttering? Sure, making a long-distance move is always a good time to start, as is the springtime with a good spring cleaning, but what if you are only moving next door or to the next town, or you were busy in the spring, or, maybe, you just don't think you have that much stuff to declutter?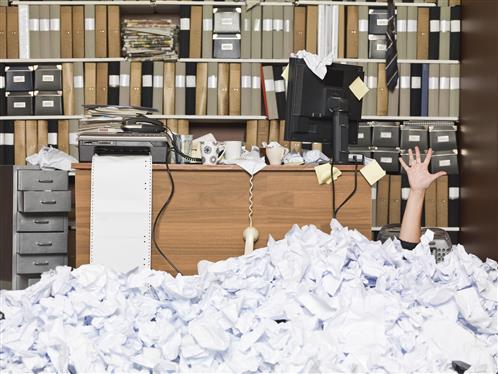 Here are three signs that will let you know it is time to declutter:
You Can Never Find Anything – If it's a daily occurrence to spend hours looking for things, from hairbrushes to car keys, to important papers, it's a sign that it's time to pare down your things. It's incredibly frustrating rummaging around looking for things among all the clutter, and it can be a safety hazard, as you can trip and fall over all that stuff you most likely don't need. It's simple—when you have less stuff, it's easier to find things.
There are Drawers/Closets/Rooms You Don't Go In – It's not because they are haunted; it's because they are overflowing with stuff that you probably didn't even know you had. If there are areas in your home that cause you stress just thinking about them, it's time to declutter. Start small by picking one drawer or one area and spend one hour a day going through each item until it's all organized.
You Keep Things Because You May Need Them One Day – From baseball cards that you think will be worth something in the future, to antiques from your aunt you don't even like, to parts from an old car, toaster etc., holding on to things that you might need in the future or which may increase in value takes more than just sorting; it takes thinking about why you are holding on to these things in the first place. If it feels wasteful to throw them away, donate them or sell them.  You don't have to keep something someone else gave you just to remember them. That's what memories are for, and they don't clutter up a room.
If you still can't bring yourself to declutter the whole house at one time, at least go through each room and throw away anything that doesn't work anymore or which doesn't serve a useful purpose in your life.
If you come across items that don't fit either description, but you're not ready to part with them, you may want to consider renting short or long term storage. A professional moving company like Midway Moving & Storage can not only help you store your items, they can even help you move them. Call us today at 866-693-4148 to learn more about our storage and moving services and additional decluttering tips.
Sources